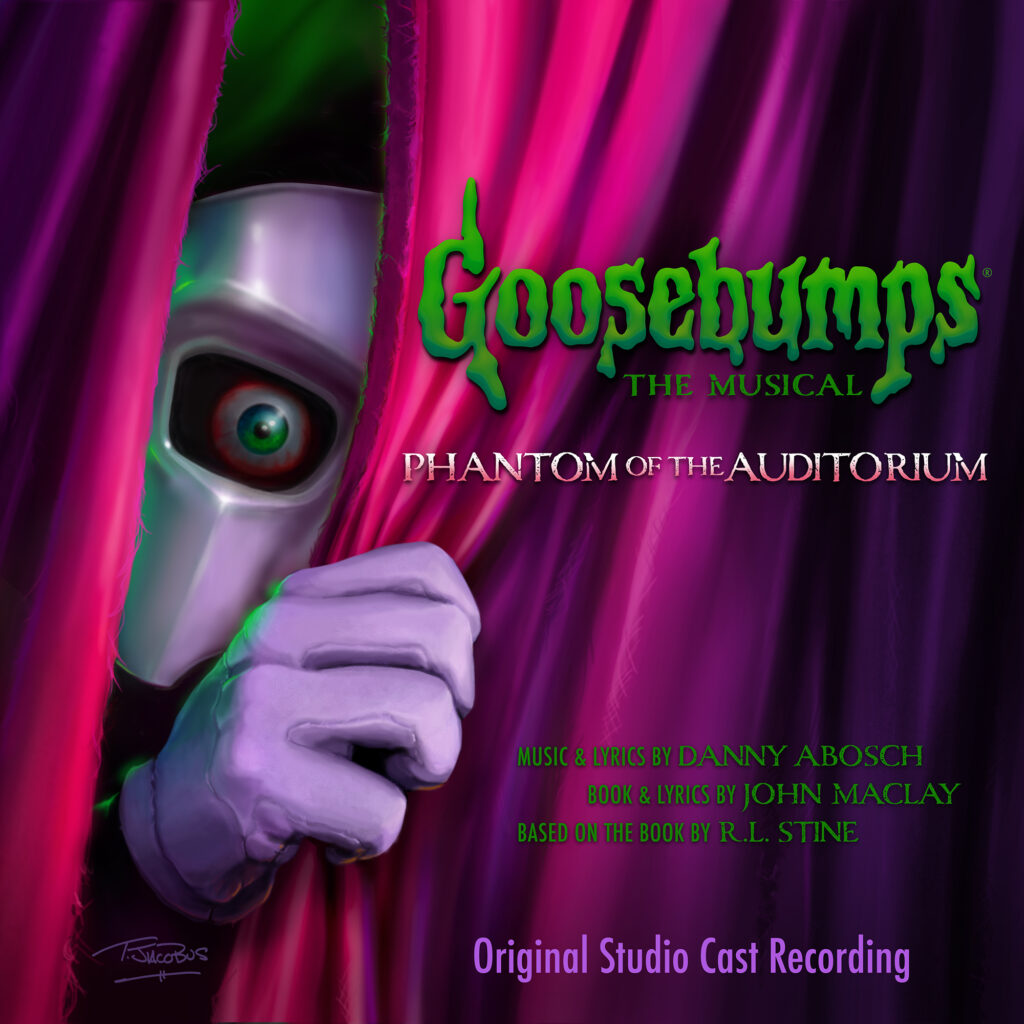 Goosebumps The Musical: Phantom of the Auditorium (Original Studio Cast Recording)
1. Goosebumps
Krystina Alabado, Alex Brightman, Noah Galvin, Alex Gibson, Sheryl Lee Ralph, Will Roland, Stephanie Styles, and Company
2. A Super Scary Play
Krystina Alabado, Sheryl Lee Ralph, Will Roland, Stephanie Styles, and Company
3. The Legend
Sheryl Lee Ralph, Stephanie Styles
4. Watch Your Step
Alex Brightman
5. Babbling Brooke
Krystina Alabado, Noah Galvin
6. The Story of The Phantom
Krystina Alabado, Will Roland, and Stephanie Styles as "Esmerelda"
7. Stay Away
Krystina Alabado, Alex Brightman, Noah Galvin, Sheryl Lee Ralph, Will Roland, Stephanie Styles
8. Entr'acte
Armenia Sarkissian and Orchestra
9. Is Somebody Down There?
Krystina Alabado, Alex Brightman, Noah Galvin, Sheryl Lee Ralph, Stephanie Styles
10. Understudy Buddy
Stephanie Styles, Sheryl Lee Ralph
11. Whodunit?
Krystina Alabado, Noah Galvin, Sheryl Lee Ralph, Will Roland, R.L. Stine
12. The Trapdoor
Krystina Alabado, Noah Galvin, Will Roland, Armenia Sarkissian
13. My Home Sweet Home
Alex Brightman, Krystina Alabado, Noah Galvin, Will Roland
14. Opening Night
Orchestra
15. One Last Goal
Orchestra
16. The Performance
Orchestra
17. My Story
Noah Galvin
18. The Phantom Unmasked
Krystina Alabado, Noah Galvin, Sheryl Lee Ralph, Will Roland, Armenia Sarkissian
19. Goosebumps (Reprise)
Krystina Alabado, Alex Brightman, Noah Galvin, Alex Gibson, AJ Lewis, Sheryl Lee Ralph, Will Roland, R.L. Stine, Stephanie Styles, Aika Zabala
Music and Lyrics by Danny Abosch
Book and Lyrics by John Maclay
Based on "Goosebumps®: Phantom of the Auditorium" by R.L. Stine
published by Scholastic Inc.
Cast:
Brooke Rodgers: Krystina Alabado
Emile: Alex Brightman
Brian Colson: Noah Galvin
Ms. Walker: Sheryl Lee Ralph
Zeke Matthews: Will Roland
Principal Stine: R.L. Stine
Tina Powell: Stephanie Styles
Ensemble:
Arianny Escalona, Alex Gibson, AJ Lewis, Armenia Sarkissian, Shuba Vedula, Aika Zabala
Arrangements and Orchestrations: Danny Abosch
Production Manager: Griffin Dohr
Music Direction: Danny Abosch
Casting: Binder Casting / Chad Eric Murnane, CSA
Lead Recording Engineer: Ian Kagey
Editing and Mixing: Danny Abosch
Mastering: Justin Colletti / Joe Lambert Mastering
Cover Art: Tim Jacobus
CD Packaging Art & Design: Michelle Dimuzio
Music Coordinator: Mira Magrill
Music Copying: Connor Pietrzak
Produced by Danny Abosch
for Danomalous Productions, LLC
Orchestra:
Flute/Piccolo: Mira Magrill
Clarinet/Bass Clarinet/Saxophones: Mark Dover
French Horn: Cameron West
Trumpet: Connor Pietrzak
Trombone/Bass Trombone: Jen Hinkle
Drums: Alex Marchisone
Percussion for "The Legend": Reinaldo Ocando
Guitars: Jakob Reinhardt
Harp: Kristi Shade
Violins: Will Curry, Zoë Miller, Chelsea Starbuck Smith, Ronald Villabona, Michele Zimmerman
Violas: Will Curry, Molly Goldman, Laura Sacks
Cellos: Daniel Gonzalez, Yoed Nir, Jay Tilton
Double/Electric Basses: Gonzalo Carmelé, Michael Epperhart, John Gray, Matthew Weber
Keyboards/Electronic Music Production: Danny Abosch
Additional Vocals:
"Goosebumps" and "Goosebumps (Reprise)": Alex Gibson (soloist), AJ Lewis, Armenia Sarkissian, Aika Zabala
"A Super Scary Play": Arianny Escalona, Alex Gibson, AJ Lewis, Stephanie Styles, Shuba Vedula, Aika Zabala
"The Story of The Phantom": Stephanie Styles (as "Esmerelda"), Alex Gibson
"Entr'acte", "The Trapdoor", and "The Phantom Unmasked": Armenia Sarkissian
Recorded August 7–September 13, 2020 at:
John Kilgore Sound & Recording (New York, NY)
Reservoir Studios (New York, NY)
Rittenhouse Soundworks (Philadelphia, PA)
The Sharktank (Los Angeles, CA)
Lucy's Meat Market (Los Angeles, CA)
Lead Recording Engineer: Ian Kagey
Additional Recording Engineers: Alex Conroy, Michael Richelle, Luke Adams, Pete Min
"Goosebumps The Musical: Phantom of the Auditorium" premiered October 14, 2016 at the Todd Wehr Theater (Milwaukee, WI) and October 22, 2016 at the Newmark Theatre (Portland, OR).
Originally Commissioned by:
Oregon Children's Theatre, Stan Foote, Artistic Director
and
First Stage, Jeff Frank, Artistic Director
Special Thanks:
Kurt Deutsch
Sekou Campbell
Mira Magrill
R.L. Stine
Tim Jacobus
Susan Gurman
Niffer Clarke
Andy Propst
Somi & Gigi
www.dannyabosch.com
For all inquiries: info@dannyabosch.com
Recording © 2021 John Maclay and Danny Abosch
GOOSEBUMPS® and associated logos are trademarks and/or registered marks of Scholastic Inc. All rights reserved.